There are many speculations about the identity of the Antichrist. One of the most frequent "victims" of the speculation is the Pope of the Roman Catholic Church. In the days of the Protestant Reformation, Martin Luther and some of the other Reformers were convinced that the Pope of that time was the Antichrist. Popes John Paul II and Benedict XVI were commonly identified as the Antichrist. The current Pope, Francis I, will likely be an equally popular target.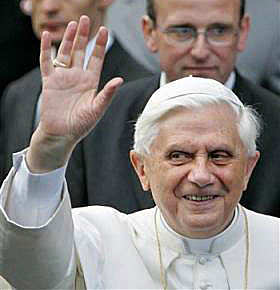 Views:
Anonymous
What better facade than a "church" to cover the antichrist's real identity? The Bible tells us that Satan, the devil, "deceives the whole world." (Revelation 12:9). Everyone in the world has been deceived by the devil and by his agent, the antichrist.
pacinst.com

Anonymous
A serious warning from God's Word for all Catholics:A third angel followed them and said in a loud voice: "If anyone worships the beast and his image and
receives his mark on the forehead or on the hand, he, too, will drink of the wine of God's fury, which has been poured full strength into the cup of his wrath. He will be tormented with burning sulfur in the presence of
the holy angels and of the Lamb. And the smoke of their torment rises for ever and ever.
There is no rest
day or night for those who worship the beast and his image, or for anyone who receives the mark of his name."
-Revelation 14:9-11
Theodore Shoebat
The Vatican has made itself the seat of the Antichrist, because for the first time in its history it will be having Islamic prayers declared from its premises, a measure planned and organized by Pope Francis himself.